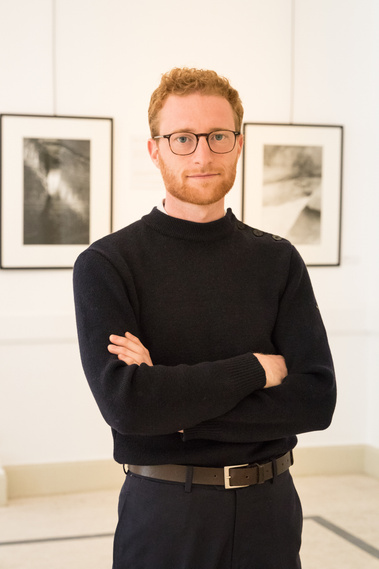 I am a photographer who specializes in literature and poetry. I began my career as a photographer in 2015, at Calais refugee camp, France. Two years later I settled in Alexandria, Egypt, with the goal to acquire a deeper understanding of the Arab world.

The timeless city of Alexandria struck my soul with her strange energy of a city stuck between a glorious past and an unsure future. I wanted others to have the opportunity to feel the awe-inspiring beauty of the city, as well as tell a distinct story of what Alexandria is today. I went about this by combining my photographs with poetry from the last century.
My latest work is based on Jean Cocteau's diary Maalesh published in 1949 after the French writer went on a three-month tour of the Mediterranean. I traced Cocteau's travels and created a contemporary photographic interpretation of what this Mediterranean journey would look like today.
In 2021 I am showing a collection of seventeen analog prints from this project Maalesh, voyage en Méditerranée, in France and Egypt. My work is supported by Institut Français, Comité Jean Cocteau, Versailles University and Bergger Inc.
Born in 1995 in France - Based in Alexandria, Egypt

MA in Cultural and Media History - Paris-Saclay University 2017
Member of the Paris-based agency Studio Hans Lucas
Solo shows
2021 Maalesh, voyage en Méditerranée Musée Jean Cocteau Menton, FR

2021 Maalesh, voyage en Méditerranée Chapelle Saint Jean Versailles, FR
2021 Maalesh, voyage en Méditerranée Institut Français Cairo, EG
2021 Maalesh, voyage en Méditerranée Institut Français Alexandria, EG
2021 Maalesh, voyage en Méditerranée Université Paris-Saclay Versailles, FR
2017 Calais, en attendant la terre promise Théâtre de Fontenay-le-Fleury Versailles, FR
2017 Calais, en attendant la terre promise Université de Versailles St-Quentin Versailles, FR
2017 Egypte, en attendant la traversée Scène nationale St Quentin en Yvelines, FR
2016 De l'Egypte à Calais, parcours ICART Paris, FR
2016 Calais, en attendant la terre promise Maison Martha Pan Versailles, FR
Group shows
2021 Miscegenation Shelter Art Space Alexandria, EG
2021 Grain Cairo Photo Week Cairo, EG
2017 Art in the jungle Le Carreau Cergy, FR
2016 Art in the jungle Galerie 39/93 Romainville, FR
Grants & residencies
2021 All Around Culture L'art Rue, co-funded by the E.U. Tunis, TU